A monthly review curated by the Mass Media and Culture team
It is easy at our age to feel as if we're losing that spark of curiosity we often experienced as kids, that longing for knowledge for the sake of learning. Entering adulthood also means saying goodbye to the naive way of searching for answers to unknown questions typical of the age of innocence.
With 2022 almost coming to an end we are closing on an extremely eventful year which is certainly leaving us with more questions than answers. This feeling of uncertainty and the anticipation for what's to come presents us with an opportunity we should not underestimate: the chance to dive deep into reality with newfound curiosity.
To help you through this peculiar time and emotions, this month our team explored the concept of curiosity, that strong drive towards the unknown we are ever so often afraid of. Our November newsletter serves as a beautiful reminder to keep looking at our surroundings with eager eyes and to never lose that same raw spark we felt as children. Stay curious, folks!
Camilla Massaglia
What To Read:
"Demian" by Hermann Hesse
"I have no right to call myself one who knows. I was one who seeks, and I still am, but I no longer seek in the stars or in books; I'm beginning to hear the teachings of my blood pulsing within me."
"Demian" is an emblematic novel able to capture and fascinate youth. Certainly an autobiographical novel, but above anything else, it's the story of a boy moved by his curiosity and desire to know more about life and of his eternal quest for the unexplored that will end up in a tormented journey toward his true identity.
Emil Sinclair is the name of the boy, and in the most critical moment of his growth, he finds himself at a crossroads having to choose between the good and the evil, both symbolically embodied by two schoolmates. The novel is divided into proper stages, each one represented by a character, and combined together they form the path leading to the discovery of his deep, true self.
Recommended by Anna Re
"L'ospite inquietante: Nichilismo e i giovani" by Umberto Galimberti
«The most unsettling of all guests». Galimberti, in L'ospite inquietante: Nichilismo e i giovani analyses the condition of young people nowadays. The author maintains that teenagers are living in an extremely particular historical moment during which all certainties – religion, high ideals, community, and family- have been voided of their absolute value. Thus, the new generations are like a drifting boat in an unwelcoming ocean tenaciously looking for a port, where there is no dock. What would you do in such a situation? Most young people give up steering the boat and allow themselves to be transported by the currents and waves. What does this imply? By giving up control over one's life, one starts to be shaped by his environment. The dissatisfaction that stems from the chiseling of one's soul is unbearable, hence the only solution is a continuous assumption of painkillers – drugs, alcohol, loud music, social media-induced dopamine production, etc. What does Galimberti suggest? The traveler's ethics. What is it? An exaltation of curiosity – the motor with which we can conquer the five oceans. Want to know more? Read the book.

Notes: The book is in Italian.
Recommended by Michele Usher
What to Watch:
C'mon C'mon (2021)
In this incredibly emotional movie, a radio journalist, played by one and only Joaquin Phoenix, embarks on a cross-country trip with his nephew. The movie, in general, depicts the harshness of life in an unbelievably realistic manner, making it impossible for the audience not to see something from themselves in the plot. The storyline is so simple and complicated at the same time that it feels like the movie is about nothing except everything that happens in between. What makes the main characters' uncle-nephew relationship so special is how curious the kid is about everything. Woody Norman, the kid, makes a great job in portraying his character as a curious little kid. So powerful. It is still hard to understand why The Academy missed out on this masterpiece in 2021.
Recommended by Egemen Aray
Enola Holmes (2020)
Enola is the little sister of the famous detective Sherlock Holmes. In the two movies, she shows unmatched cleverness, strength and ambition and manages to unravel more than one mystery.
Recommended by Lynn Zahreddine
The Imitation Game (2014)
Based on the real life of the cryptanalyst Alan Turing, the movie portrays the race against time to decode Nazi information during the Second World War. Alan's ability to think outside the box and create new solutions from nothing is what leads to his success. However, society is not always kind to people whose curious minds they cannot understand, as the genius' story depicts.
Recommended by Constance Bochard
What to Listen:
Curated by Egemen Aray, Lynn Zahreddine and Constance Bochard
What to See:
As we know it can be all too easy to get comfortable in our routines, we recommend you to be inspired by your curiosity to explore the city you live in, whether it be Milan or somewhere else, and to let it take you to the side streets you've never seen—you'll surely be amazed by all the places your city is hiding. If you live in Milan like us and don't know where to start, we suggest the Milano Art Community's "Milano Bulletin Map 2022", a guide to the venues, galleries and museums holding Milan's rich collection of art. We suggest you all to let yourself just wander before the semester ends and we end up in the library like a pack of sardines. Curiosity is a very personal thing and it would be insincere to just advise you all to go to the same place, so go wherever your legs take you and see what inspiration Milan brings you!
Recommended by Mercedes Lovato and Eve Hadjisotiriou
The Artworks:
Woman Walking in an Exotic Forest, Henry Rousseau, 1905. Oil on canvas. Philadelphia, Barnes Foundation.
When it comes to history of art, you'll be lucky to find an artist whose curiosity was greater than Henry Rousseau's! It was curiosity indeed what prompted him to quit his job as a customs officer and become a self-taught painter at the age of 49. Despite never leaving France, he was able to achieve the eerie ambiguity of jungles as nobody else before. His painting "Woman walking in an exotic forest" poses a plethora of questions: is there something hidden in such a painstaking forest? How did an elegant woman end up strolling in such a dreamlike environment? However mysterious this painting can be, curiosity makes us feel just the same as this tiny lady: dwarfed by all we wish to find out, transported into a mesmerizing world with bright colors and countless fruits to pick. Also, the human presence might recall the startled wildlife we would expect to see: this crossover between animals and humans seems to underline that curiosity stirs a sense of surprise which belongs to every creature, thus resulting in a primal, tantalizing desire which never ceased to inspire the artist. Every piece of Rousseau's "Jungles" series perfectly depicts his childlike enthusiasm towards life… and so enhances ours!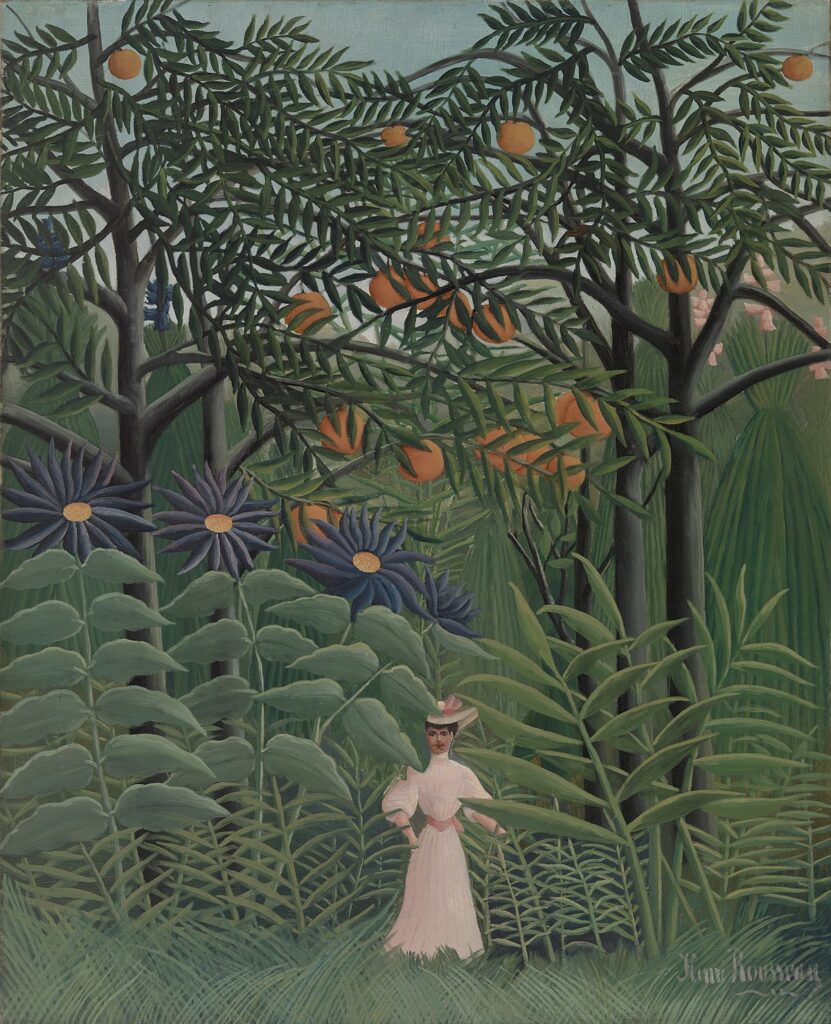 Recommended by Giorgio Santinelli
Not To Be Reproduced, Rene Magritte, 1937. Museum Boijmans Van Beuningen Rotterdam
This painting shows the back of a darkly dressed character, looking into what appears to be a mirror. The viewer automatically expects to see the man's reflection, just like the book is correctly mirrored, but finds himself frustrated then to see that there is no reflection, instead the back of the mans head again. This leaves the viewer puzzled as to why the man's face is not shown, hence creating curiosity, intrigue and questions around the piece.
With this painting, Magritte, one of the most famous surrealist painters, plays on the fact that everybody will always be asking about what they can't see, what is unknown to them. It is the viewer's curiosity then, that makes the painting what it is.
Recommended by Blanca Lopez