If you have been following the news lately, you might have heard about a new social media app, Clubhouse. But what is it exactly? And why is it gaining so much traction?
What is Clubhouse and how does it work?
Clubhouse is a social networking app based on audio-chat, launched by Stanford University alumni Rohan Seth and Paul Davison a year ago. It features no posts, no photos, no videos – just audio. Think of it as live podcasts, with the possibility for listeners to join in the conversation. Users can listen in to interviews and discussions between interesting people on various topics. However, there is also a layer of exclusivity added to the mix. That is because the only way you can access and download it is to obtain an invite from an already existing user and have an Apple device, as this app is solely available on the Apple Store at the moment.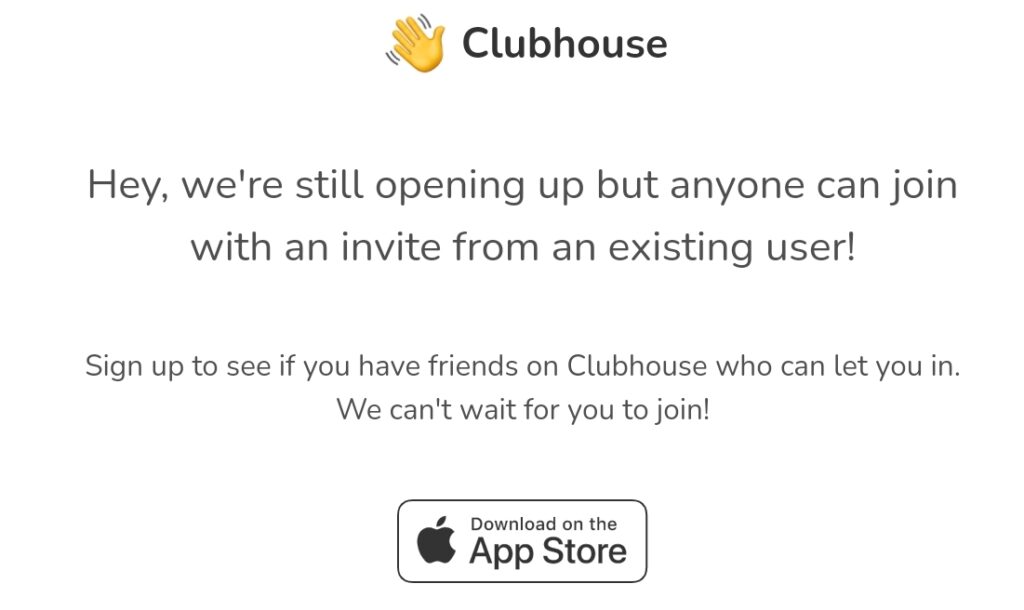 Once you are invited to join, you can select topics of interest – the more information you give the app about your interests, the more conversation rooms and individuals the app will recommend you follow or join. Then, you can start or listen to conversations in digital rooms, ranging from a major talk by someone famous to a chat within a small group. These rooms work just as conference calls do and, once the conversation is over, the rooms are closed and the live audio-chats in them disappear.
Why is it so hot lately?
From what we gathered so far, we can see that this app prosperes not only on the exclusivity it holds, but also on the concept of FOMO (fear of missing out). FOMO is a social anxiety born from the belief that others might be having fun while the person experiencing the anxiety is not present, and so creates the desire to constantly stay connected with what others are doing. In addition, the timing of Clubhouse played an essential role in its success, as it exploded in popularity during the coronavirus pandemic when people could not meet up in person.
Its surge in popularity brought it to be used by many celebrities, including Tesla CEO Elon Musk, who spoke about the GameStop trading mania, and Minister President of Thuringia Bodo Ramelow, who confessed playing Candy Crush on his phone during pandemic response meetings presided by German Chancellor Angel Merkel. Furthermore, Mark Zuckerberg, Facebook's chief executive, after shockingly appearing on the app to talk about the future of augmented and virtual reality, reportedly asked his employees to create a service conceptually similar to Clubhouse.
What is happening with Clubhouse in China?
Moreover, the app had a great impact in China. Clubhouse managed to fly under the radar of China's firewall of censorship and government control for several months, unlike other social media networks such as Instagram and Twitter. It became very popular these last weeks, attracting many Chinese users and giving them a chance to express themselves freely and engage in discussion on usually blacklisted topics, including Xinjiang, Hong Kong and Taiwan. E-commerce sites in China were giving potential users of Clubhouse the opportunity to buy invites. On platforms like Xianyu and Taobao, invite codes were being sold for between 150 – 400 yuan (€19 – €51). However, as of Monday 8 February 2021, the app has been blocked inside China until further approval by the government.
Even if the app is thriving, some issues are creating major concerns.
Nevertheless, even though the app is newly born, some issues are already beginning to rise, mainly privacy related. As part of the sign-up process, you have to give Clubhouse access to the contacts on your phone, so you can connect with other users of the social network. However, it seems that the app is using that information to create profiles of people who are not registered yet. Therefore, even if you are not interested in using it, the service may already know your name, phone number and how many friends you have on the network without your consent.
Moreover, its privacy policy is only written in English, and so limits greatly the number of users who are able to read and understand it properly. Consequently, only a small number of its user base know that the chats are always being recorded, in order to track down abuses and misconduct. This clashes with the major appeal of the app, it being seemingly impermanent, and creates some serious concerns about its legitimacy before the European Union's General Data Protection Regulation (GDPR), as it requires explicit permission to collect personal data under most circumstances.
What should we expect of Clubhouse in the future?
All this data makes us wondering – is this service really on its way to become the future of social media, as Silicon Valley makes it out to be, or only a fad? Clubhouse is already moving towards the direction of having its own influencers, in the same way others apps do, testing its own invite-only "Creator Pilot Program", with more than 40 Clubhouse influencers. However, not everyone is hopeful about its longevity – some experts expect a significant decline in activity once the sanitary emergency will be over, since it might lose the charm it has now when people will be able to see each other more freely. Even so, we cannot know for certain what Clubhouse's future might be like, hence we can only stay tuned and see how the situation unravels in the following days.