The economical impact of Covid-19 on the music industry
The Covid-19 pandemic is having a huge economical impact on the music industry, especially on the income of the live performance industry, that makes up over 50% of total revenues, mainly deriving from tickets sales.
Live music has been dramatically affected not only by the inability to schedule new live events or even to predict a specific period in which they can safely start again but also by the fact that a long list of major concerts and events – Lady Gaga's Chromatica Ball, Slipknot's summer tour dates and many more – have been cancelled or postponed since the beginning of 2020. A six-month shutdown is estimated to cost more than $10 billion in sponsorships, with even more devastating consequences deriving from longer delays.
The inability to promote new albums with tours has also resulted in a growing list of artists delaying their releases, even if not yet announced.
One of the most peculiar effects of the outbreak is that underlying trends in the music industry based on streaming platforms have been accelerated, with a growth in the whole industry from 9% to 47% in six years (WEF).
The cultural impact of the pandemic related to live performance
The impossibility to attend live events and concerts creates a sense of isolation and makes people even more aware of how important music and art are for human beings, with the social interaction that has always connoted them. Music is largely open to interpretation, but first of all, it derives from the great need for communication, beyond words, through frequencies. To generate emotions and transfer them to the world. To make a feeling understandable for others and to understand other people's feelings.  As long as this necessity persists, nobody is going to stop making music and sharing it. 
During this dramatic period, social media can represent – if not the solution – a good way to face the problem of isolation, even for artists and their public. Concerts have been held by artists from their homes in live streaming using the main social platforms: Instagram, YouTube and Twitch. This is not completely new, but in this specific period where live streaming concerts are potentially very useful to expand the audience, due to the extreme ease of access of watching the performance from wherever in the world. Many artists who would otherwise be performing on the stages all over the world have been performing on Instagram live, "inviting" people directly into their living room. Streaming platforms have also enabled new monetization methods, including memberships to artist channels that allow early or exclusive access to content, as well as virtual gatherings and paid-commenting features.
Some examples of Livestreamed events held during the pandemic
One of the most hyped for Livestream events was held in January by the K-pop band Blackpink, that organized a Livestream concert on Youtube for the release of their first album "The Album", that was meant to be promoted through a world tour which has since been replaced with a Livestream. Fans were able to unlock the access to "The Show" through a paid subscription to the band's YouTube channel, together with some extra perks. Lights mirrored walls, neon lasers accompanied the band during the whole concert, making the audience feel like they were actually attending an in-person event. Blackpink brought in over 280,000 viewers for "The Show": an incredible result, being this their first online event. Despite the hard times, they realised what they had in mind: create something special that could not be made in person.
Along with the increase of digital music consumption, there is a growing role for third-party platforms, such as Fortnite, in shaping music distribution, discovery and consumer behaviour.
During the pandemic, Fortnite hosted an incredible concert of the American artist Travis Scott, known for his spectacular live performances. Over 25 million fans attended the live streaming performance, which began with a giant asteroid crashing into the ground and a giant Travis Scott emerging from it while performing one of his most popular singles, "Sicko Mode". The concert, among the vibrant colours and the atmospheric graphics, has been a perfect time to premiere "The Scotts", Travis' new song featuring Kid Cudi.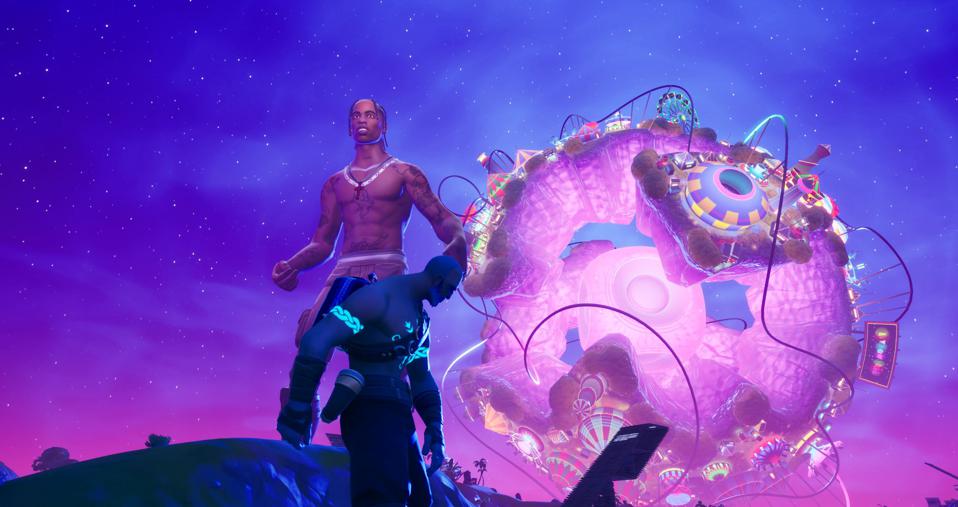 For the first time since their last live concert in 2018, last December Gorillaz had their first virtual official shows, named "Gorillaz Song Machine Live from Kong", composed of three performances across three different time zones, shot in the Kong Studios in London and available on LiveNow. The concert combined Jamie Hewlett's visuals (that, in fact, have always connoted the Gorillaz, as a virtual band) with the band performing their new album, "Song Machine Season One – Strange Timez", featuring lots of artists like Elton John, 6lack, and many others. Some of them appeared on stage as holographic avatars, a technique that is a distinct feature of the band. 
Pokémon is commemorating its 25th anniversary with an artist – involved series named P25 Music, in partnership with Universal Music Group. A Post Malone livestreaming concert will be the first show of the series, on Saturday, Feb. 27, available for free on Pokémon's YouTube Channel, Twitch and the dedicated website. For the special event players will be able to add a special Pikachu to the Pokémon Sword and Pokémon Shield that – fun fact – knows the move "Sing", in order to keep with the music theme.
Many other artists like Justin Bieber, Dua Lipa, H.E.R., etc. are also holding livestreaming performances.
Will live streaming events replace in-person ones in the future?
So, due to the pandemic, musicians found in Livestreaming concerts an alternative way to engage with their fans. But what will happen when the outbreak will be over? Can Livestreaming concert replace in-person ones? Is this the beginning of a new era?
Actually, Livestreaming didn't receive serious attention or investment before the outbreak, even because the in-person concert business was booming. Moreover, the post-pandemic perspective seems to be challenging and growth forecasts for live music are expected to be revised. Rebuilding consumer confidence in the sector will be difficult: a survey shows that less than half of Americans plan to attend gatherings, concerts, movies, sports events etc… when they reopen, without a proven vaccine. This will surely have an impact on the music industry since live music income is the biggest part of the whole industry revenue.
There are many reasons why Livestreaming will probably not replace in-person concerts when the world will go back to ordinary life. First of all, they are two different things, if we dig a little deeper. We all already know what kind of experience we are looking for when we book a ticket for a live concert. We seek emotions, connection, good vibes. We want to be part of something bigger (or, at least, so do I). But Livestream is a new whole thing that can definitely be used to create something unattainable in a live performance, in terms of technology, effects, graphics, a whole new form of artistic expression which could enhance the understanding of the concept that lays behind a song or an album.
Whether Livestreaming becomes a pillar of the music industry or fades away once the pandemic will be over will also depend on the revenue that can be earned from it. At the moment, some new technologies that allow musicians to play in distance are being created.
However, humans will always seek social relations, understanding and connection with each other, things that can be found in a live concert more than anywhere else, because music does connect us. So, I believe that we should not talk about "replacement", but with the Livestreaming performances in constant development and improvement, the right word to use is definitely "coexistence".