How musicians have added their voices to the growing Black Lives Matter movement
Right after the murder of George Floyd last spring, thousands of Americans started to protest against police brutality over black people. Floyd's last words "I can't breathe" became the anthem of these protests, but the list of police brutality victims in the USA is actually very long.
The streets of the main American cities were filled by a sea of protesters of every age and ethnicity, seeking justice for George Floyd, Breonna Taylor, Ahmaud Arbery, Elijah McClain, Atatiana Jefferson and many other victims. But, first of all, seeking equality, giving life to the BLACK LIVES MATTER movement.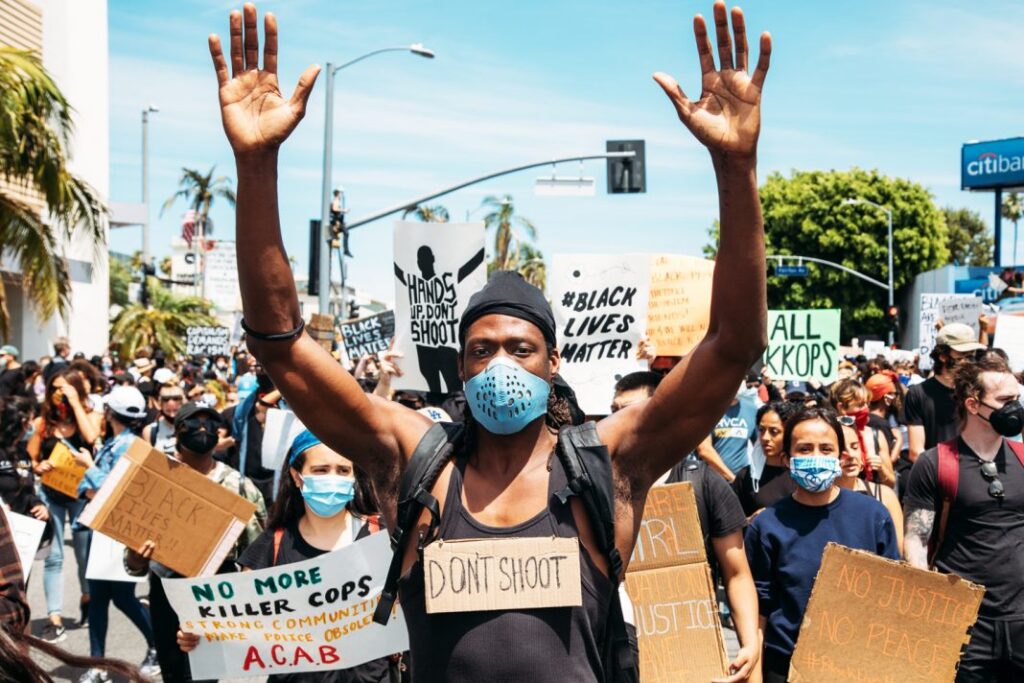 The movement found support from all over the world, especially by a number of Hip Hop, RnB, Rap artists who used their voice and fame to spread the message. Actually, since the problem of police brutality and racism in the USA is anything but new, a lot of songs have already been made about black pride and black people's struggles caused by systemic racism.
From Kendrick Lamar's Alright to J. Cole's Be Free, Beyonce's Formation, in which the artist celebrates black features: "I like my baby heir with baby hair and afros". Back in 1988, amid racial tensions in Los Angeles, "F*ck tha Police" emerged as an anthem after N.W.A. called out police for their abuse of power.
"Fuck the police comin' straight from the underground
A Young nigga got it bad 'cause I'm brown
And not the other color so police think
They have the authority to kill a minority".
The song was born as a protest track against Los Angeles' police, accused by the group of arresting and questioning black people, especially kids, just because of their ethnicity, being violent and persecutory with them.
In an interview, Ice Cube said: "This is our history in America: police and other authorities have to deal with us every day. This interaction means abuse and violence, and although this song was released in 1988, it's like we started writing it 400 years ago".
"F*ck the Police" has also been used as an anthem for the BLM protests after George Floyd's murder.
The global music industry strongly acknowledged the issue because most urban and pop artists, even if not black themselves, are highly influenced by Black music.
Here's a list of a selected recently released songs that we found so powerful:
---
DaBaby's "Rockstar" performance at the BET Awards 2020 (Black Lives Matter Remix feat. Roddy Rich) paid tribute to George Floyd, opening up with his face on the ground, the knee of a police officer on his neck, recreating Floyd's tragic death.
Right after, under a heavenly sky, the performance continued with the artist singing surrounded by burning cop cars and BLM protesters, holding posters, wearing masks and shirts reading "I am George Floyd", "I am Breonna Taylor" and "I am Trayvon Martin".
The whole performance then ended with a card reading "In loving memory to all the lives lost to racism and police brutality".
"Now we all fed up and comin' back for everything
Rockstars, just watch the news, they burnin' cop cars,
Kill another one, break the law, then call us outlaws"
These are some of the most powerful lyrics of the intro, sung by DaBaby while laying on the ground, answering to some criticism (also coming from former president Trump) against BLM protesters, accused of seeking peace with violence during the protests.
About this criticism, the British rapper Stormzy, in an interview with BBC said:
"If we weren't oppressed, we wouldn't be shouting, we would just be living our lives. I want you to understand that we're not just crying or just shouting, acting like only black lives matter: that this is a real pain. This ain't some sort of trend. This is real life and this has been our reality for hundreds, thousands of years." 
---
The same issue is faced by Lil Baby in "The Bigger Picture", winning the BET Awards, Best Impact Track 2020 and being the most streamed protest track after the death of George Floyd.
Through the powerful lyrics and the evocative music video, Lil Baby sings about the struggles black men and women go through everyday living in our society, especially in relation to the establishment and police.
"It's bigger than black and white/It's a problem with the whole way of life
It can't change overnight
But we gotta start somewhere"
he raps in the chorus, pointing out a crucial issue that is systemic racism, a form of discrimination that is integrated and normalized in the society or in a social organization, involving occupation, education and economical and social conditions.
"You can't fight fire with fire
I know, but at least we can turn up the flames some
Every colored person ain't dumb and all whites not racist
I be judging by the mind and heart, I ain't really into faces." 
Simply explaining the banality of racism, Lil Baby's direct but effective lyrics strike deep within the listener's conscience, as long as the scenes of the protests flowing in the music video, like a documentary.
---
"Other Side of America" is the title of Meek Mill's tribute to the BLM purpose and George Floyd. At the beginning of the song, the sample of Donald Trump's 2016 campaign speech, targeted against African Americans, in which the then-candidate asked for their vote by telling them they had nothing to lose trying something new since they were living in poverty and unemployment. 
This song is clearly a contribution to the last protests, but Meek Mill has always shown commitment for the purpose. In fact, at the end of the song he retrieves a 2018 interview for CNN about criminal justice reform, in which he says:
"The first step I would say: I grew up in America in a ruthless neighbourhood where we are not protected by police, we grew up in ruthless environments, we grew up around murder, you see murder, you see seven people die a week, I think you would probably carry a gun yourself. Would you?"
with the journalist responding "Yes, I probably would". 
---
The talented RnB artist H.E.R. released a touching song named "I Can't Breathe" in response to George Floyd and Breonna Taylor's killings by the police.
The official video is composed of footage of BLM protests from around the world and culminates with a wall of names of many police brutality victims.
The last part is probably the one that gives you chills, making the listener realize how many unarmed people have been brutally and unreasonably killed in the last few years. 
"Romanticizing the theft and bloodshed
That made America the land of the free
To take a black life, land of the free
To bring a gun to a peaceful fight for civil rights
You are desensitized to pulling triggers on innocent lives
Because that's how we got here in the first place
These wounds sink deeper than the bullet."
H.E.R. 's emotional lyrics show humanity, oppressed people's need for justice and equality, not revenge, after too many years of injustice. In the last part of the song she retrieves "Strange Fruit", Billie Holiday's 1939 masterpiece, that exposed black people's murders in Southern States, becoming one of the first civil rights movement symbols.
---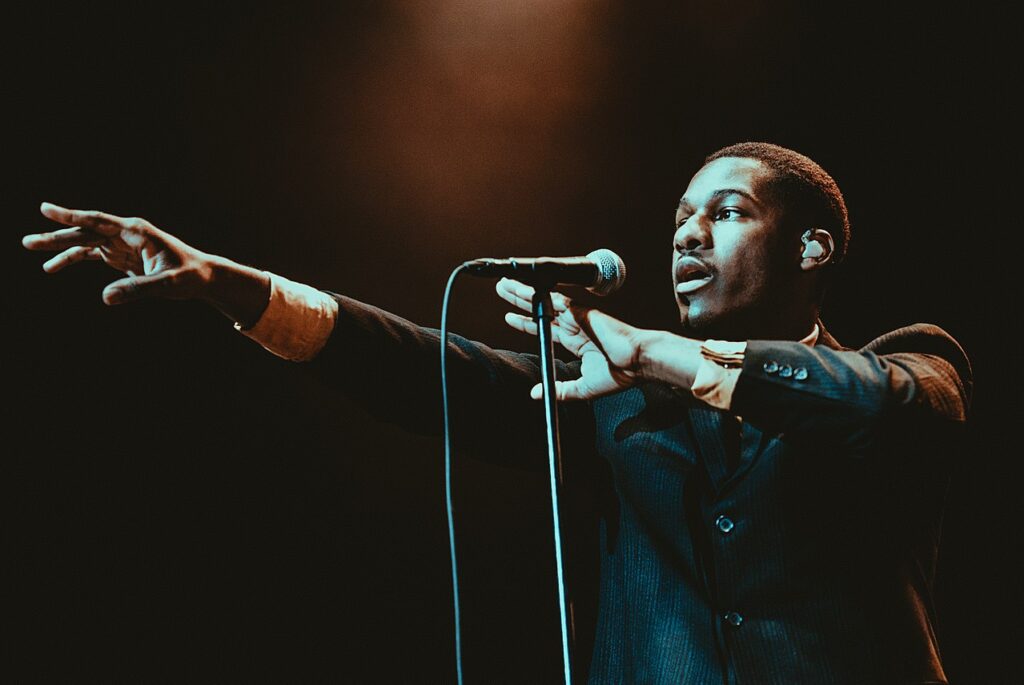 "Hoping for a life more sweeter
Instead I'm just a story repeating
Why do I fear with skin dark as night?
Can't feel peace with those judging eyes."
Accompanied by a music video that features Bridges' father and childhood friends in the neighbourhood he grew up in, "Sweeter" is a soft soul song, sung from the perspective of a black man taking his last breath, having a flashback while his life is being taken from him. The heartbreaking story of someone wishing for a sweeter life, for a chance to be, all suddenly denied, for no reason.
Bridges also references Martin Luther King – "Did the words of the King disappear in the air like a butterfly?" –, wondering why society hasn't changed despite generations of activism and fights. 
The artist said that even if he had always experienced racism since he was a kid, the death of George Floyd made him cry for the first time for a man he never met, and then he realized he could and wouldn't be silent for any longer. He said "Just as Abel's blood was crying out to God, George Floyd is crying out to me. So, I present to you Sweeter."
---
These are just some examples of how artists used their voice to spread the message of equality, anti – racism and peace, right after the tragic killings of unarmed black people by police officers in the USA, but the list of the contributions is way too long.
Racism is a plague so hard to wipe out, especially the one that involves the establishment and society in general, but it's mostly up to all of us. So let's use our voice and our actions against it, because silence can be violence too. When everyone will be able to understand that, after all, we're all so different but all the same, then maybe humanity will start to breathe again.